Reading Time:
3
minutes
Why do you need well chosen western style wardrobe basics? Because you will have a good clear selection of clothes which match one another and make you look and feel beautiful.
In India you need two types of basic wardrobe – traditional and western.
A basic western style wardrobe includes basic, plain colors, easy to mix and match colors. The classical colors for Indian and western basic wardrobes are: white, nude (golden), light pink, grey, light blue (dark blue or maroon) and black.
First, and very important for a western style wardrobe, is to have a few sets of well-fitted plain underwear – in nude, light pink as an option, or black. Ideally they should be invisible briefs or Brazilian briefs which always look good; a high waist panty will make your legs look longer and highlight your waist. Preferably choose cotton fabric to help your skin breath and stay cool. A silk option feels sexy and is so luxurious.
A western basic wardrobe will include:
top or body (two colors of each)
t-shirts (minimum 2-4)
1-2 shirts
blazer jacket or formal jacket
jeans shirt
2 pairs of jeans
wide-leg pants
relaxed fit trousers
black dress
The basic western wardrobe requires more items and doesn't change as fast as fashion clothes and accessories. Your basic collection will depend on your lifestyle but most offices have no dress code.
Tops
Crop top or body. In this case it depends on your shape or how brave you are. Here we leave it up to you. T-shirts are a timeless classic. I like t-shirts with classic round collar in white and black colors and it must be a good quality cotton. It goes well with all our selection and at any time of the day.
A couple of good quality linen or thick cotton shirts in white, pink and any blue shades for daytime and black silk shirt for nighttime. Shirts can go with any bottom of a basic wardrobe.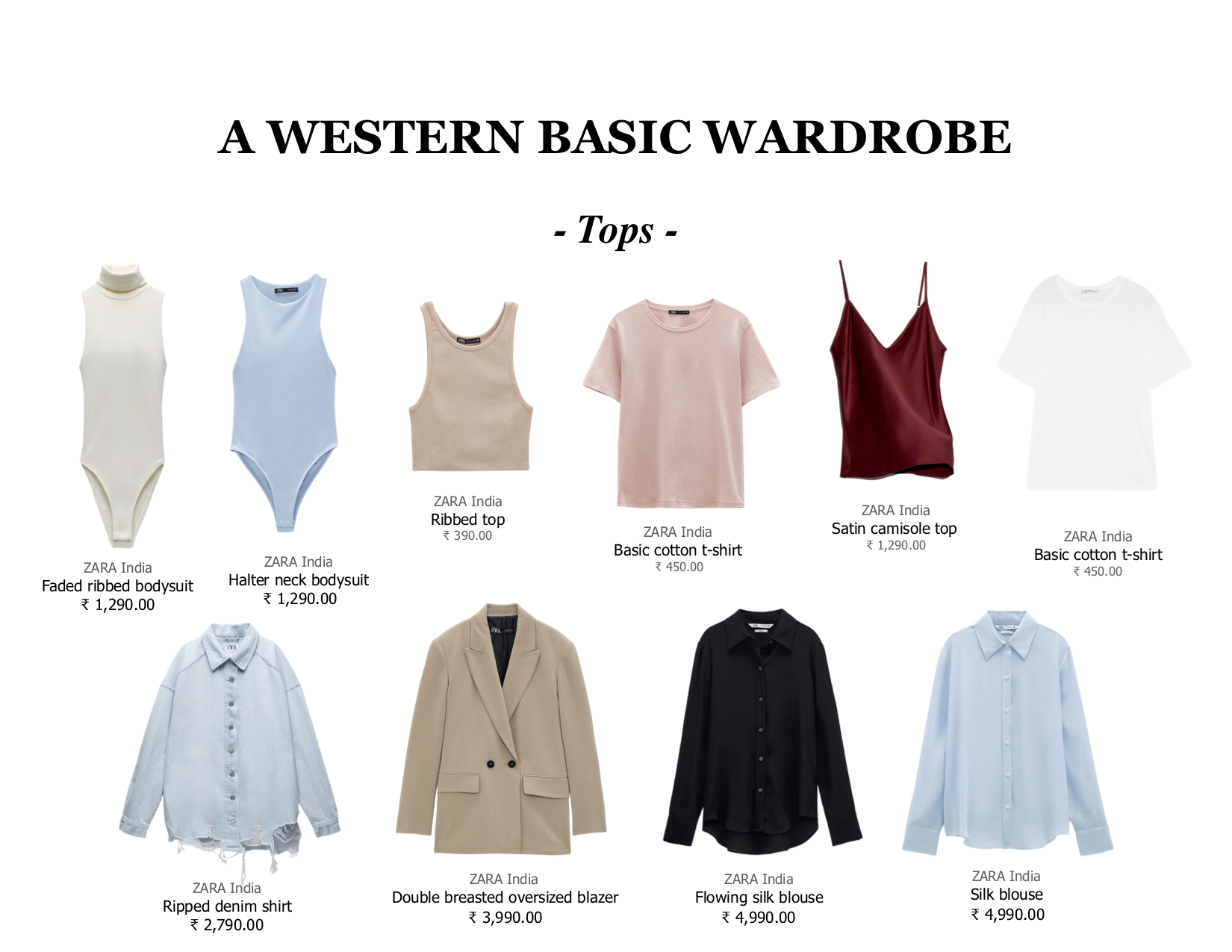 Western wardrobe basics
Jeans shirt for a relaxed look. It can work as a lighter version of jeans jacket. Formal jacket is a must have. Suits will still be very much in fashion in the next 5–10 years so you can boldly invest in a couple of good jackets or even a three-piece suit. Long jacket, oversize blazer, ¾ sleeves models.

Bottoms
Straight skinny mid- or high-rise jeans in blue and black colors. Mid or high waist will always make your legs look longer. Good quality jeans fabric and the right blue color is very important! Black color should be also included. It works well for day and night.
Wide-leg pants must be very long. And yes, wide-legs pants will work well for everyone. You just need to find the right fit. Avoid cropped models as they are shorter legs and wider hips. Not so practical are extra-long pants as the fabric will spoil at the bottom, but it makes a big difference for the look.
Cargo, utility or jogger trousers will be perfect for the weekend, travel time or just walking for your groceries. Have a couple of colors in your wardrobe.
Classic solid leather black or brown belt with single sided silver pin buckle. No logos, no exotic prints and you are all set.
One black dress is an absolute must have, said Coco Chanel. Something that you can comfortably wear to any occasion.
Western wardrobe basics
Classic shoes selection will match any of these outfits. White sneakers, nude mules or black sandals will complete your beautiful look.
Little moon-shaped bag, shopping basket or shopping bag is an ecological way to carry your shopping.
Hoop earrings look beautiful and classic.
Western basics, shoes, accessories
At the end I want to add that a basic wardrobe for girls is so important. When you have a well-chosen and well-fitted base you can be sure that you are set for any occasion. On top of the base style you can buy any colors, prints, seasonal items and experiment with your look.
Read Next :
For the Soul, Style and Décor: 5 Discoveries in September
5 Cool Shoe Brands Made in India
And if you liked this article, sign up for a monthly newsletter. A handpicked selection of lifestyle articles delivered to your inbox.