Reading Time:
3
minutes
Previously, in our blog: "Healthy Living – Tackling Gluten Related Disorders", we saw how gluten may pose a problem to certain people, along with the common symptoms experienced while suffering from gluten intolerance.
There's a lot of buzz going on with much hype about the benefits of a gluten-free diet. 
Most unprocessed foods, foods with additives, wheat, rye, barley, cereals, pizza, pasta, baked goods, and soy sauce contain a protein called gluten. There are also certain foods that are gluten-free, but the additives present in such foods turn them otherwise.
For starters, let us understand – what is a gluten-free diet?
A gluten-free diet includes foods like eggs, meat, fruits, vegetables, gluten-free bread, or pasta.
Here are some examples that might help you to curate a list of gluten-free foods to include in your diet:
Whole Grains
This includes whole grains that are not processed in the same facility as gluten-containing foods and certified gluten-free oats.
The whole grains that can be consumed are quinoa, brown rice, wild rice, buckwheat, sorghum, tapioca, millet, amaranth, and arrowroot to name a few.
Fruits & Vegetables
One should consider consuming fresh fruits and vegetables that are naturally gluten-free. Avoid processed fruits and vegetables that might contain gluten-laden ingredients like hydrolyzed wheat protein, modified food starch, and malt.
Citrus fruits like oranges, sweet-lime, berries, and other fruits like apples, bananas, peaches, and pears are fit to be included in a gluten-free diet.
Cruciferous vegetables, including cauliflower and broccoli, green veggies like spinach and kale, potatoes, onions, corn, mushrooms, capsicums, carrots, beans, radish, and mushrooms are some vegetables that you can definitely consider consuming that are free from gluten.
One should double-check canned, frozen, or processed fruits and vegetables as they might contain gluten from the additives or preservatives. 
Proteins
Beans, lentils, peas, peanuts, nuts, seeds, fresh chicken, seafood, and red meat that includes fresh pork and lamb are devoid of gluten. 
One must cross-check for cold cuts, sausages, pepperoni, salami, luncheon meats, canned beans, foods with sauces, and condiments/seasonings for the gluten bit.
Dairy 
Most dairy products like milk, butter, cheese, paneer or cottage cheese, clarified butter or ghee, cream, and yogurt are naturally gluten-free. 
However, one should avoid flavored milk, flavored yogurts, processed cheese, cheese spreads, cheese sauce, creamy spreads, and ice creams that might include gluten-containing ingredients.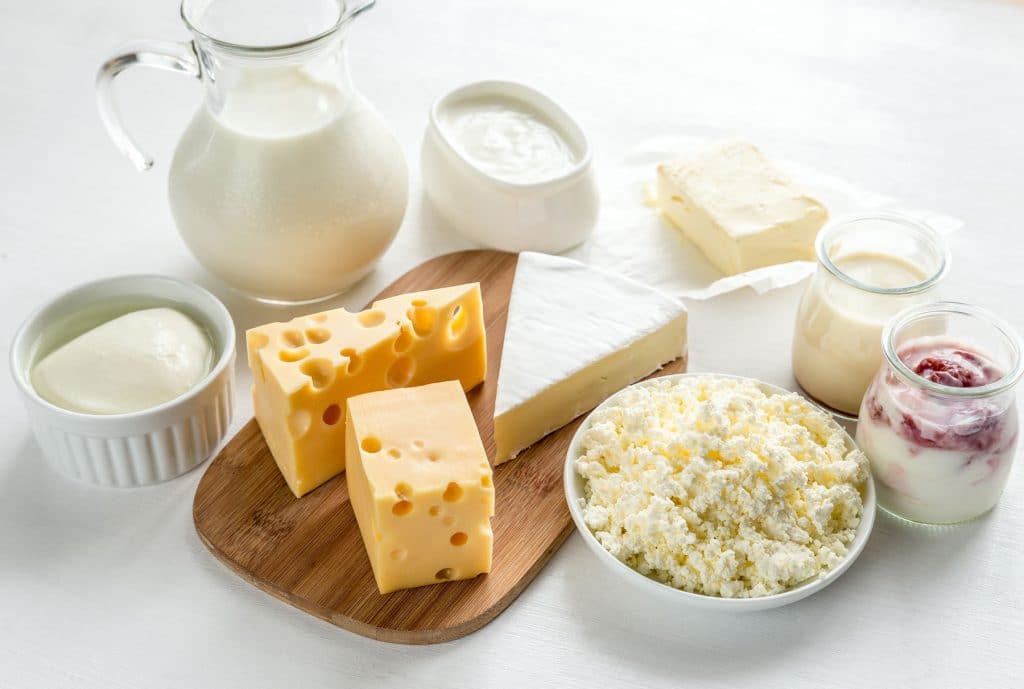 Fats/Oils
Here are some of the fats/oils that are gluten-free: Butter, ghee, olive oil, avocado oil, coconut oil, vegetable oil, and seed oil (example: sunflower seed oil, mustard seed oil, sesame seed oil).
However, one should avoid flavored or spice-infused oils that might contain gluten. 
Beverages
Water, coffee, tea, and wine are suitable to be included in a gluten-free diet. Although, beers need to be checked if they are made from gluten-free grains. Sports drinks, soda, energy drinks, pre-mix beverages or canned juices, pre-made smoothies, ales, and lemonade or drinks with additives should be avoided.
Sauces and Condiments like ketchup, mustard, creamy dressing sauces, mayonnaise, pasta & pizza sauce, marinades, and gravy mixes should be avoided or checked for gluten content.
Malt, soy, gluten stabilizers, emulsifiers, and wheat-based ingredients are some of the elements to look out for, while buying any foodstuff.
Ensure that you take a well-balanced diet while avoiding gluten-rich foods. Double-check the ingredients while buying any foods. Check for the warnings on the labels/packaging. Avoid or limit the amount of canned, frozen, packed, and processed foods. Avoid food having artificial flavors/colors. Substitute oat, quinoa, or other gluten-free alternatives for wheat flour in cooking and baking. Happy eating & cheers to healthy living the gluten-free way!
Read next:
Healthy Food – 5 Ways To Start Clean Eating
Delicious Non-Dairy Substitutes for Milk
And if you liked this article, sign up for a monthly newsletter. A handpicked selection of lifestyle articles delivered to your inbox.