Reading Time:
3
minutes
Cauliflower is both; a low-calorie substitute plus a super-food that offers a boost of nutrients while helping you to stay healthy. The white floret bunch has all the great vitamins and minerals that should be part of a healthy diet…Vitamin C, Vitamin K, Potassium, and Magnesium, to mention a few. When it comes to dietary benefits and versatile cooking styles, this vegetable's growing popularity has made it every chef's favourite. Many high-end menus have cauliflower enlisted as a substitute to rice, mashed potato and even pizza crust… "healthy meets tasty"- now that's a match made in heaven.
Let's dive into the goodness of cauliflower with some recipes which will surely attract many "jaw-dropping" moments to your next home party. So, the following dish is a curation by the famous chef-Yotam Ottolenghi.
Roasted whole cauliflower
This dish is ideally served as a centre-table dish, where people relish handpicked florets over drinks or while starting off a meal. As the name suggests, it's a wholesome cauliflower recipe that can be cooked with its leaves for crispiness and uses anchovies to escalate the taste of butter. The main idea is to break the florets, dip it in the cream dip sauce and go yummmm.
Use a pair of scissors to trim off the excess leaves so that about 5 cm of the cauliflower head is exposed. Boil the cauliflower in a saltwater bath for approximately 6 mins, then move the cauliflower over to a rack so that it drains away the extra liquid and cools down.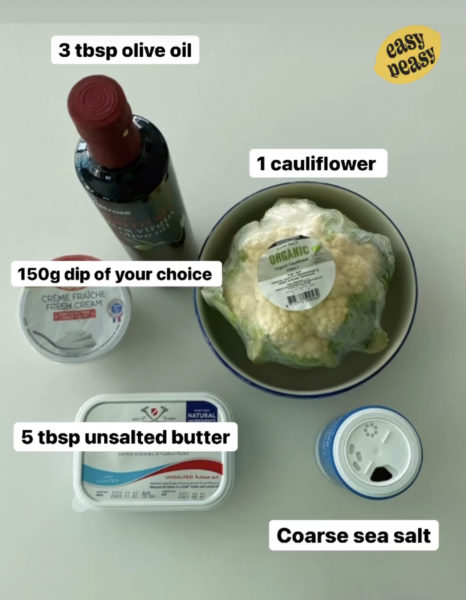 Heat the oven to 170°C or 335°F for roasting.
Mix butter with oil and lather up the white flowers as you put in on a baking tray, placed sideways. Now season the whole cauliflower with salt and roast it for 1-2 hours, while basting the flower with all the juices as it cooks.
The charred-roasted goodness is ready to serve with your preferred dip on the side. You could season the beautiful roasted cauliflower with a mix of herbs and spices to further satiate your taste buds. While the dish is healthy, it goes well with drinks and can be amped up with a spread of varied dips.
Cauliflower rice and mashed cauliflower
Other speedy and easy dishes prepared with this versatile vegetable are Cauliflower Rice and Mashed Cauliflower.
For rice, the florets can be grated using a grater, sauteed on a skillet over medium heat with 1tbsp oil, covered for just 5-8 minutes until it softens and is tender. The healthy alternative to rice is ready to be seasoned as per your choice!
Using cauliflower in place of rice or mixing it with rice to reduce the amount of rice can help you avoid the heaviness after meals and can squeeze in the intake of veggies into your diet to a larger extent.
For mashed cauliflower – boil it, drain the water, mix it with your choice of ingredients (butter, garlic, parmesan cheese and more) using a potato masher. Taste your mashed cauliflower and season it with salt and pepper if needed. Creamy, buttery mashed cauliflower is the best low carbs side dish of your dreams!
This plant has unique compounds that reduce the risk of several diseases related to the heart and even cancer. So, get the chef hat on and welcome the amazing cauliflower to step up the healthy diet game now!
Read next:
Healthy Food – 5 Ways To Start Clean Eating
Lunch Inspired by Farmers Market Flavors
And if you liked this article, sign up for a monthly newsletter. A handpicked selection of lifestyle articles delivered to your inbox.