Reading Time:
2
minutes
I'm in love with this luxurious oat porridge recipe! The flavour profile is quite Indian, as it contains saffron and cardamom and feels quite close to spiced Indian desserts such as saffron and pistachio pudding or a pistachio and saffron kulfi, but without milk!
In addition to being tasty, this recipe is rather comforting, fulfilling, and a great way to start your day. I've made it plant-based by using pistachio milk. Make your own batch of this nutritious breakfast!
Cooking time: upto 15 mins
Serving size: serves two
Vegetarian + suitable for vegans

Pistachio milk ingredients:
1 cup organic, unsalted, shelled pistachios (or unshelled)
3 cups water
1 organic date
Pinch of coarse sea salt
Porridge ingredients:
Pinch of saffron threads
1 tablespoon organic cultured ghee (for vegan option you can replace with Coconut Oil)
1 teaspoon of cinnamon
1/2 cup organic old fashioned rolled oats
½ cup water
½ cup pistachio milk (homemade)
1 teaspoon organic ground cardamom
1 tablespoon of soaked golden raisins (soaked overnight)
1 tsp organic local honey
How to make the pistachio milk:
Soak pistachios in the drinking water and keep it the fridge for 8-12 hours (basically overnight)
Drain, rinse in freshwater, place in a high-powered blender followed with three cups of water, dates, and a pinch of coarse salt. Blend on high until the pistachios are completely incorporated. If you want a more intense and rich flavour, reduce the amount of water to two cups.
Strain through a nut milk bag and it's ready for your porridge!
Protip: Keep the leftover pistachio pulp for making granola or other recipes later.

How to make the porridge:
Warm the ghee over a medium low flame. Add the ground cinnamon.
Once the cinnamon is fragrant, add the saffron and oats and toast until the oats begin to get aromatic and nutty, around 2 minutes.
Add water, followed by the pistachio milk, ground cardamom and soaked golden raisins.
Cook on slow (below a boil) until the oats are soft and the porridge is creamy, around 6 minutes.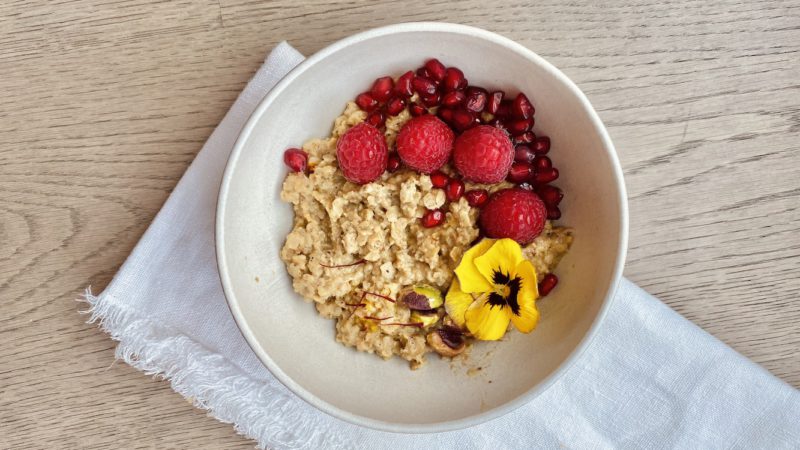 To serve:
Take it off the heat to cool a few moments, then pour the porridge into a bowl and drizzle it with two teaspoons of local honey at the very end, as honey should not be heated to preserve all its benefits.
Margo recommends: I like to garnish the porridge with a few pomegranate seeds and berries to boost its health benefits with antioxidants and vitamins.
According to Ayurveda, this recipe is great for all doshas and stages of life. However, during pregnancy, skip the saffron and cinnamon (too much heat) and add a pinch of ground fennel seed instead. Read more about the virtues of saffron in our recent article – ''The Many Benefits of Saffron: the Miracle Spice!''.
Read next:
The Many Benefits of Saffron: the Miracle Spice!
All Scream for Vegan Ice Cream
And if you liked this article, sign up for a monthly newsletter. A handpicked selection of lifestyle articles delivered to your inbox.