Reading Time:
3
minutes
The weather has gotten a little cooler. The warm rays of sunshine feel good on your face. A cup of piping hot beverage feels soothing. The winters must be here!
Cold weather brings a boosted appetite with cravings for hearty, wholesome, feel-good foods. How about some crispy fritters with a creamy dollop of a delightful dip that takes no time to make? 
At my home, we all love Zucchinis. So, today, I'm sharing our family kitchen staple recipe involving a Zucchini! The recipe is unbelievably easy to make, and I guarantee you the perfect crunch in every bite, every single time! And, if you're worried about the calories, do not worry – this recipe is low on calories. 
If you love Zucchini as much as I do, this crispy Zucchini Fritters Recipe is a must-try. Plus, it's the perfect way to sneak in some veggies if you have a fussy little eater at home. Shhh!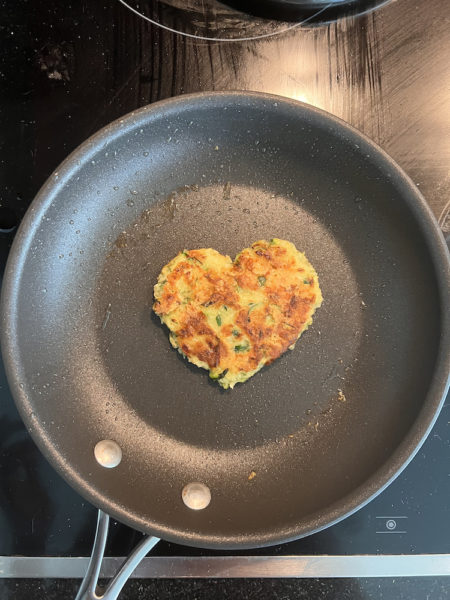 That's my secret strategy to ensure that my daughter gets her dose of vegetables in a delicious, healthy way! I'm glad she relishes it, especially with a sour cream dip. She loves it so much that she demands it a couple of times a week. The best part about it is you can make it once and store it in a freezer for about a week! 
In Russia, these fritters are hot favorites, served with sour cream. So let's get started with the fritters because I honestly can't wait to share the recipe with you guys.
Cooking time: up to 30 minutes
Serving size: serves two adults and one kid
Method:
Grate the Zucchini.
Place grated Zucchini in a colander over the sink.
Add salt and gently toss to combine; let sit for 10 minutes.
Using a clean dish towel or cheesecloth, squeeze the zucchini well and drain excess water.
In a large mixing bowl, combine Zucchini, all-purpose flour, parmesan cheese, garlic, and egg; season with kosher salt and pepper to taste.
Scoop a tablespoon of the mixture onto a hot skillet with olive oil, flattening them with a spatula.
Cook till the fritters are crisp and golden brown over medium-high heat.
Flip, cook, serve!
Place the cooked fritters on a paper towel to remove excess oil.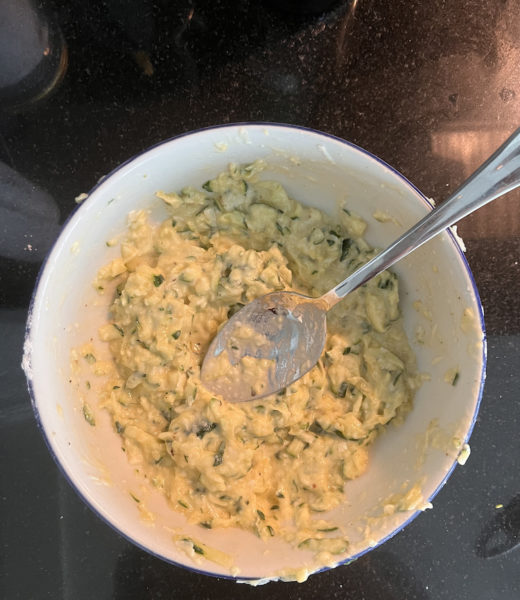 If you want a healthier alternative, try the Air Fryer Zucchini Fritters that don't involve frying in a pan.
These fritters are nutritious and packed with vitamins, minerals, and antioxidants. In addition, Zucchini has high fiber content and a low-calorie count.
You can also add carrots, peas, or other vegetables of your choice with spices like garlic, or oregano.
The best part is you can serve them as a snack, an appetizer, or a light lunch or brunch!
My little one's favorite way to eat Zucchini Fritters is to pair them with a sour cream dip.
You can also serve it with a healthy Goat Cheese or Greek yogurt – dolloped over the fritters.
Chives too are a tasty and pretty garnish.
Another great pairing & my personal favorite is a Tzatziki Sauce which goes fantastic with these fritters for dipping.
Craving for these lip-smacking fritters now, are you? What are you waiting for? Add Zucchini to your shopping cart and get going with the fritters!
Do let me know if you enjoy them as much as my daughter and I do!
Read next:
Cooking with Kids: Seven Favorite Healthy Cookbooks for Parents and Kids
All Scream for Vegan Ice Cream
And if you liked this article, sign up for a monthly newsletter. A handpicked selection of lifestyle articles delivered to your inbox.