Reading Time:
3
minutes
It's time to get lunch inspiration from Farmers market – dive into the world of vibrant, colourful veggies and fruits dripping with freshness, discover new flavors, fragrant herbs and more…neatly packed, piled and displayed on vendor tables inviting us to fill our baskets with a bounty of indigenous produce!
Farmers Market is that heaven of soulful food that speaks to you in so many ways, one – as conscious shoppers of this generation, two – as people concerned about their health and wellness and three –  key highlight of responsibly sourcing directly from the local farmers – initiating a conversation with them, connecting, knowing about how the local produce has been grown and generating the good old community vibe in the hustle-bustle of today!
We vote for more frequent Farmers Market visits as it's a rejuvenating break from the usual grocery stores and mall visits.
The setup, the large spread of garden-fresh produce, the flavors that refresh the mind, and the meals that inspire – who doesn't need a change?
Bringing you two such dishes for that perfect luncheon inspired by famers market flavors, so that you can fully savor the season's taste and put your garden haul to full use!
Veggie Lo Mein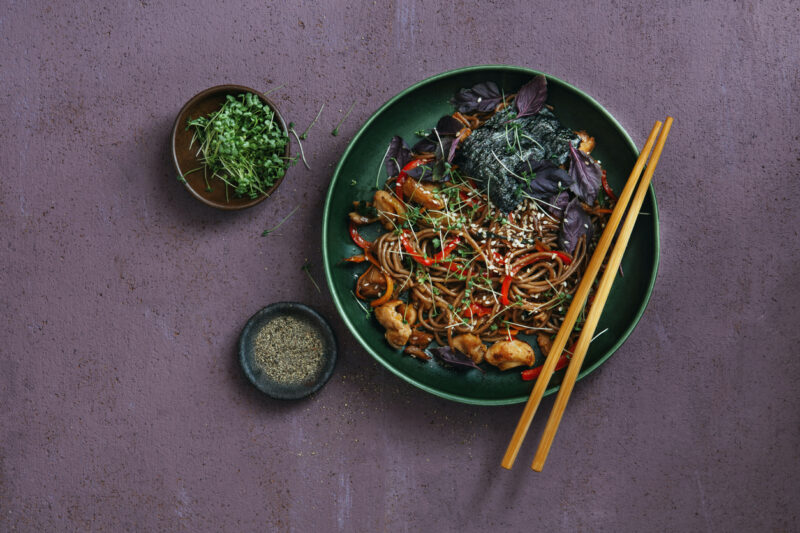 A quick Asian stir fry, loaded with vegetables and the tantalizing Lo Mein sauce. What's even better is that it's a noodle recipe that is easy to prepare, vegan (suited for your healthy lifestyle) and its super basic meal format is adaptable to a variety of produce.
So, chop the veggies of your choice packed with a rainbow of colors and let your creative flow of cooking begin!
Mushrooms, bell peppers, carrots, cabbage, broccoli and maybe some tofu. (or any protein of your choice like chicken, eggs, shrimp)
Moving on to the Lo Mein Sauce that has low oil content and is saucier.
Add soy sauce, some sesame oil and honey – you are done.
Three easy steps now:
Boil the noodles
Stir fry your veggies
Add the sauce
Comin' in hot is the Lo Mein treat!
Sweet Potatoes Lentil Dal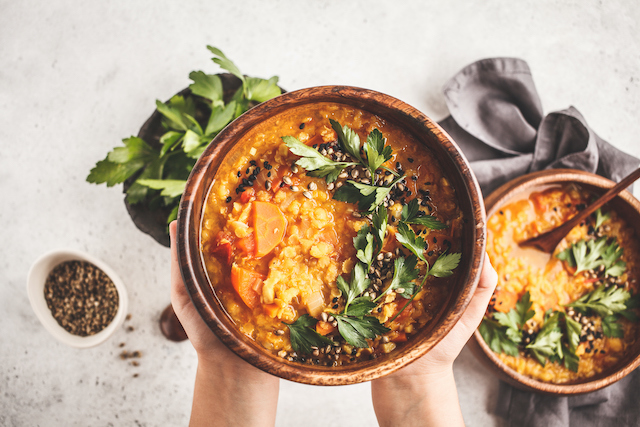 A decadent farmers market inspired recipe that is full of fragrant Indian spices sourced responsibly to create a soulful comforting lunch meal.
A one pot recipe that is vegan, low fat, low calories, iron rich supper that is well accompanied with some brown rice or basmati rice or even a chapati. What works best is that it's easy to customise with the veggies sourced – we are sharing a sweet potato recipe, you could also use yam, cauliflower, kale or let inspiration hit you and surprise yourself with some experiment!
Gather your ingredients – red lentils, onions, garlic clove, ginger, sweet potatoes and the rich flavors of turmeric, cumin, bay leaves, the tinge of garam masala, salt, honey, ghee. (all locally sourced for that right taste)
Now begin your last few steps for a wholesome meal –
Rinse the lentils and soak them in water
Heat the ghee
Sauté onions in ghee, add ginger, then garlic and all other spices along with salt
Let them all toast and fuse in their flavors
Then add honey and sweet potatoes
Strain the lentils and add them to the pot with some water
Stir, boil then turn the heat down and simmer for 15 minutes
Once thicker, adjust the salt
Plate it up for a no fuss vibe nutrition packed lunch!
We love the farmers markets and the movement of cleaning our food habits for a healthier and more environment friendly future.
Some of our recommendations of the Farmers Markets that we have visited are:
Kavita Mukhi's (an organic evangelist) Farmers Market held every Sunday (10am to 3pm) in Bandra, Mumbai
Juhu Organic Farmer's Market held every Sunday (10:30am to 1pm) in Juhu, Mumbai
Read Next :
The Amazing Cauliflower | Health Benefits and Recipes
Best Healthy Food Delivery in Mumbai, Delhi and Bengaluru
And if you liked this article, sign up for a monthly newsletter. A handpicked selection of lifestyle articles delivered to your inbox.