Reading Time:
3
minutes
There are few things that compare to the compelling aroma of freshly baked bread in the morning, or the pleasures of the perfect crust that crackles and a hot warm and soft core. Can you picture it yet?
I enjoy making this super easy bread that errs on the side of health. It's free of sugar and stabilisers, in our attempt to eliminate processed foods. The recipe is rather simple and relies only on four ingredients! That's right and the base can be built upon as you prefer, by adding herbs, seeds, olives, nuts or even dry fruits. It's a real treat to bake your bread and I typically enjoy mine with just butter or a nutty spread.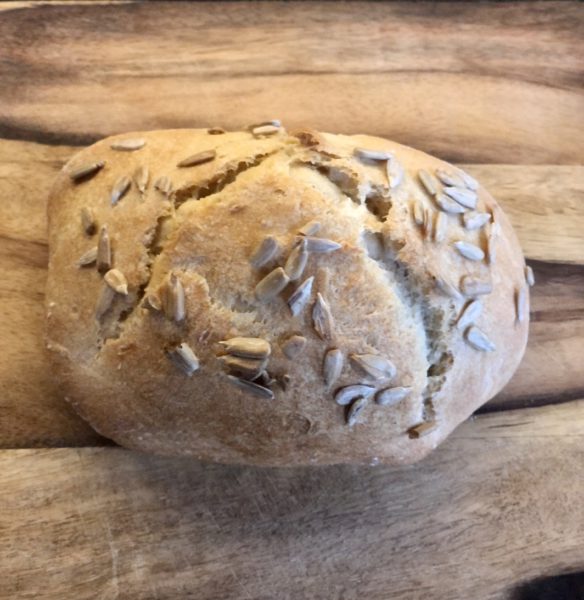 The best part? You don't have to be a kitchen veteran or a professional chef to indulge in a bit of bread making. Nor do you require any fancy equipment. Moreoever you can easily store the dough in the fridge and make small batches as and when you want fresh bread. The outcome is always flavourful and happiness inducing.
Ingredients:
3 1/4 cups or 460 gms bread flour
You could also use all-purpose flour, however, bread flour bread flour produces a more robust bread and chewier texture, which we think makes quite a difference.
2 teaspoons Instant yeast
Instant yeast aids in the quick rising of dough and adds more flavour to the bread.
2 teaspoons Salt
To accentuate the taste of bread, try using coarse salt.
1 and a ½ cup or 360ml water
Use water that is cool or at room temperature in the kneading process. This slows down the yeast activity and adds more flavour to the bread while it rests.
Cornmeal (optional)
You could use cornmeal to dust the pan before you place your dough; this adds flavour and makes the bread crunchier.
Note: Since the recipe is simple and healthy, the bread turns out to be more crusty and chewy compared to rich dough that contains butter and eggs.
METHOD
Step 1: Mix all the ingredients to the point where you incorporate all the flour, and the mixture goes from dry to moist. Knead the dough enough so that it reaches a sticky consistency.
Step 2: Cover the dough with plastic wrap or aluminium foil and let it rest at room temperature. The dough should rise and double in size in the next 2-3 hours with many air bubbles.
Step 3: This is where it gets interesting. Either you could directly begin the baking process after letting your dough rest, or you could put it into the refrigerator for at least 12 hours to get that ideal flavour and texture. Let us break it down for you; you can keep the dough in the fridge for up to 3 days…yes, you heard it right-3 days!
It helps in slowing down the fermentation process and adds more flavour and texture to the baked bread. So, either you could go ahead and bake your bread immediately after letting it rest for 2-3 hours or refrigerate it for three days (or 12-18 hours in case of emergency) …the longer you wait…, the tastier it gets!
Step 4: Make sure to shape your dough into a loaf as you put it on a flat baking sheet. Score (shallow cuts) with a sharp knife and place it inside the scorching pre-heated oven (246 deg C). The hot air will set the crust and help the dough to rise and not spread.
If you want a crisper crust, once the oven pre-heats, pour some water on a baking sheet and place it at the bottom of the oven and immediately place the dough in the oven to trap all the steam inside. The steam will help create that crisp crust. Bake your masterpiece until golden brown (20-25 mins). Tap on the loaf, and if it sounds hollow, your bread is ready!
Baking bread can be a very meditative process and really bring to life your inner chef.  You can enhance your loaf by sprinkling oregano, grated garlic, chopped nuts, dried cranberry or chilli flakes to amp up the Le Pain (French for bread) quotient!
Grab your ingredients and get to baking your dream loaf!
With love
Margo Samant
Read next:
Best Healthy Food Delivery in Mumbai, Delhi and Bengaluru
Keepin' It Cool With A Hearty Sicilian Summer Salad Recipe By Renowned Italian Chef – Andrea Misseri
And if you liked this article, sign up for a monthly newsletter. A handpicked selection of lifestyle articles delivered to your inbox.