Reading Time:
3
minutes
It is summertime…and that means not being anywhere near the dreading kitchen stove for long hours. As the mercury rises, the urge to whip something time-consuming eventually dips. Wondering how to fix the situation while coming up with something instant, refreshing, healthy, and gorgeous (Yes, you can have it all; why not?)
Beat the scorching Indian summers with a 'No-Sweat Recipe' that is super delicious and done in a jiffy. And, what's a big plus? The recipe is crafted thoughtfully by a renowned Italian Chef – Andrea Misseri. And he's going to show us how exactly to put up a salad bowl – in 'The Italian Job' style, and you won't regret it.
Born in Rome, Misseri explored and specialized in the gastronomic culture through a journey undertaken from various trips painted with a rich experience. This experience helped the Chef to grab an opportunity to deal with multiple international realities. His ardent inclination for culinary sciences led him to India. In search of creating and curating new flavours based on the lifestyle, seasonal ingredients, and local culture, Misseri flew down to Nashik to uplift the menu at the Sula campus.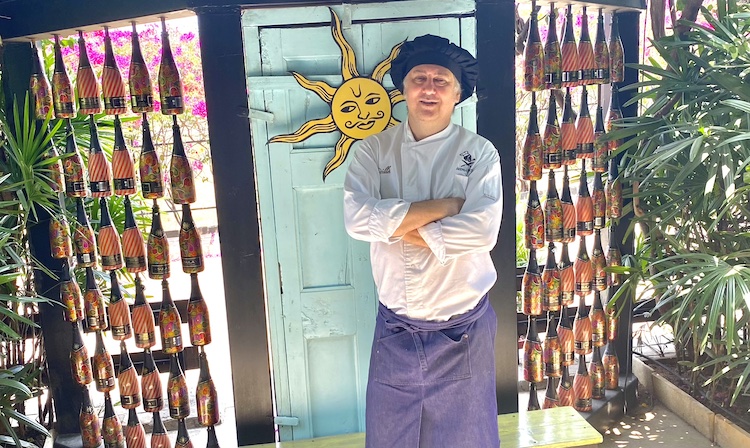 Bringing you a slice of Sicilian Summers, the 'Master of Taste' – Chef Andrea Misseri brings you a phenomenal Sicilian Summer Salad, which can be tossed in less than 10 minutes. Sicily is very similar to India when it comes to sweltering hot summers. They both share one thing in common – indulging in the never-ending meals and summer is no exception. Both countries have a bounty of fresh, seasonal foods during the hottest days of the year.
Move over boring salads. A perfect gastronomic summer bowl with an ideal blend of sweet, sour, and punchy delight is here! As rightly quoted by Fran Lebowitz, 'A salad is not a meal. It is a style'.
Chef Andrea Misseri shows us how to 'Toss it like an Italian' with a super easy, straightforward, quick melon salad along with a handful of other ingredients. Melons are in for the summer- plus adding a bunch of rocket leaves will give that extra crunch, enhancing the essence of a salad. The star of the dish is a brilliant dressing for the zingy, exciting, sharp depth of flavour – all whipped up fresh from the ingredients readily available in your pantry.
So, no more talking, and let's dive straight into the salad bowl (read recipe):
Refreshing Rocket + Melon Summer Salad with Pink pepper in Orange Vinaigrette
Ingredients:
Melon
Rocket Leaves (Known for a slightly peppery flavour)
Ingredients for the Sicilian Sauce:
Olive Oil
Orange Juice
Orange Zest (Optional)
Salt
Pink Pepper in brine
Balsamic Vinegar
METHOD
Grab a freshest & juiciest melon. Peel and slice it.
Take lush, crispy Rocket leaves.
Mix the above ingredients in a large salad mixing bowl.
For the dressing:
Take three parts of EVOO (Extra Virgin Olive Oil) + 1 part of Orange Juice.
You can also add in some grated orange zest to give a boost and add more citrusy flavour.
In goes salt and some pink peppers preserved in brine to enhance the aroma, flavour and induce that sharp kick.
Blend all the dressing ingredients to a creamy texture.
Once the dressing is ready, pour it over the salad just before serving and give it a good stir.
A drizzle of balsamic vinegar tastes excellent over this.
Your refreshing and delicious summer salad is ready in an instant!
The salad can be refrigerated in an airtight container for at least 1 hour – 3 hours for bringing out the best flavours.
Trust a chef when it comes to a salad because we assure you it will be one in a melon! (excuse the pun, please.)
This super-simple recipe serves as a perfect healthy lunch or a side dish on any given bright, sunny day. It can be served at the summer family cookouts/pot-luck parties/get-togethers or easy-breezy light brunches, summer picnics, packed into your kid's lunch packs – we've got you covered for all!
A big bowl of colourful, juicy salad is the best way to celebrate the delicious seasonal produce, and it is just what you need to have to escape the clenches of torrid heat. Try it once, and you'll make it over and over.
Read next:
The Amazing Cauliflower | Health Benefits and Recipes
Delicious Dairy – Free Cake Recipe: Rose Water, Almonds and Pistachio Cake
And if you liked this article, sign up for a monthly Nmag.in newsletter. A handpicked selection of lifestyle articles delivered to your inbox.