Reading Time:
3
minutes
We love our mithai and we absolutely love the age-old Indian tradition of exchanging affection and celebrating with something as sweet as our desi mithais. Our festivities are just another excuse to enjoy the decadent delicacies that melt-in-mouth desserts that often leave you asking for more.
Bringing a contemporary twist and a luxurious extension to these mithais are these stupendous artisanal mithai makers from aamchi Mumbai. They have beautifully handcrafted the traditional mithai and given it a delicate makeover with their choice of ingredients, presentation style and make.
Curating a list of these must-experience mithai spots from Mumbai that you should totally check out if you are a resident or whenever visiting to bring home the goodness of sweet love!
Make the festivities extra dhamakedaar with the sweet flavours of Bombay sweet shop. Aam papad lollipops, butterscotch chocolate barks, Indian gummies, Ferrero rocker laddoo are surely the must haves this season.
For people who are too sweet for sweets, Bombay Sweet shop has a perfect blend of sweet meets savoury option as well – everything chikki, which mixes bhel with the goodness of jaggery.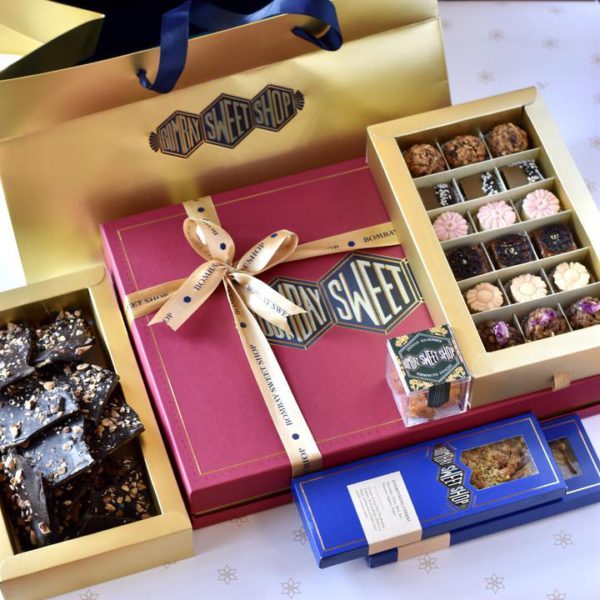 The vivid flavors and the detailed craftmanship to make every mithai look like an ornament is the inspiration behind ornamental mithai.
The royal look fused with best quality ingredients, makes them a statement gifting option. From the possibility of creating your own mithai to the wide colourful menu, which includes red velvet barfi, panjiri bar, vegan ladoo…this place has it all. To top it all, they also sell some sugarless beautiful dessert options…now that's one healthy guilty pleasure choice!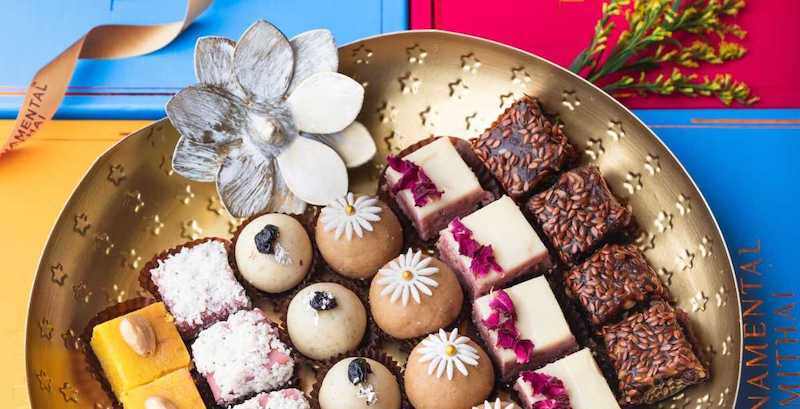 Nihira is the new age mithai e-shop that believes in sugar coating the boring stereotypical sweets. They have a wide range of barfis and laddoos that not only have the charm of festivities but also, the x-factor of the millennial generation.
The drool over menu consists of cheesecake barfi, Jager bomb laddoos, old monk halwa and the list goes on and on. The upbeat concept will tease your sweet tooth and will tickle those savoury taste buds. Bring home the joy of conventional sweet with a contemporary twist at Nihira to make celebratory moments extra yummmmmm.
The colourful mini modaks and palm sized jalebis topped with nuts is surely a sweet statement to make when you have your loved ones over. Gur Chini is a beautifully curated brand which has a super selection of eye pleasing, drool-over menu. Use of non-preservative natural sweeteners, makes Gur Chini everyone's favourite. The ghewar options are super exotic and come in kiwi, wild rose, malai-kesar and mango flavours.
Gur Chini also has the delicate Benares Ghee Barfi, for people who don't measure happiness by calories! (Us for sure!)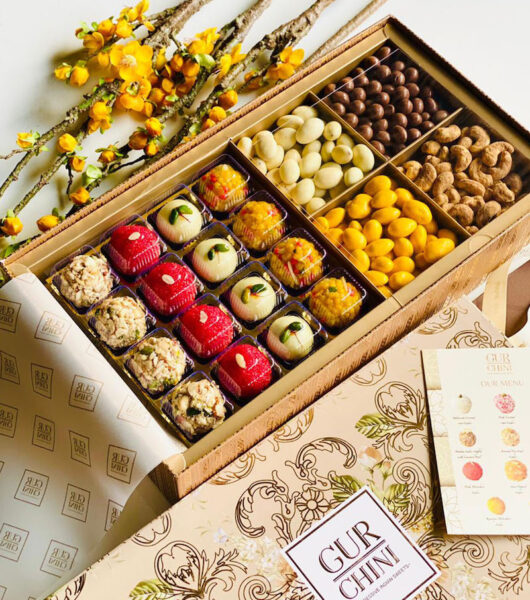 This is one stop solution for luxurious indulgence for all sweet lovers. They have an amazing selection of gourmet food which not only includes fine selection of chocolates, cookies, honey, tea and mithai but also tasteful gifts hampers which include a plethora of surprise flavours.
The brand has a range of mithais which are infused with natural ingredients and are packed with wholesome Indian flavours. The bite size bundle of joy burst your palette with the highest quality of khoya, saffron and dry fruits; curated with a playful hint of exotic fruits.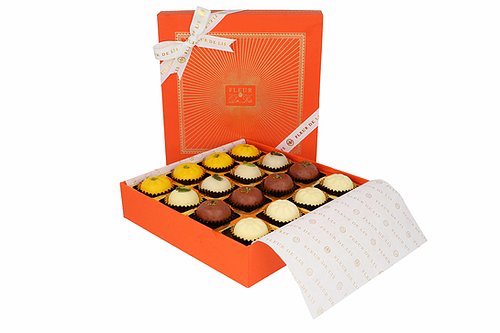 Read Next :
5 Healthy Guilt Free Desserts in Mumbai
10 Homegrown Artisanal Sauce and Condiment Brands that Need To Be in Your Pantry
And if you liked this article, sign up for a monthly newsletter. A handpicked selection of lifestyle articles delivered to your inbox.