Reading Time:
3
minutes
Is there any hairdo better than the wavy beach look? It's super cool…effortless…yet classy. Be it an "I woke up like this situation" or a close friend's wedding…the waves have got you covered. This natural easy-breezy look has been flaunted by all the famous models, and it's time we help you flaunt it too.
The interesting thing about this look is that it plays with the natural texture of your hair and can still manage to change the entire appearance. The beach waves work well for short as well as long hair and can add the extra oomph to your ensemble. In other words, you really don't need to go that extra mile to create magic or book expensive salon appointments with your fairy Godmother (a.k.a your hairdresser :P)
So, in order to get those effortless beach waves, you would need a hair texturizing gel or spray, which will help in giving that "just out of the ocean waves" look and will also help them retain it. The following two brands will help you get the beachy goodness.
Cadiveu Sol do Rio Beach Waves
This is a texturizing spray with the goodness of infused amino acids and coconut water. It helps in retaining the softness and shine of your hair by providing protection against UV rays and aggressive pollutants. This magic potion nourishes your hair while you take a dip in the pool, and it is suitable for all hair types.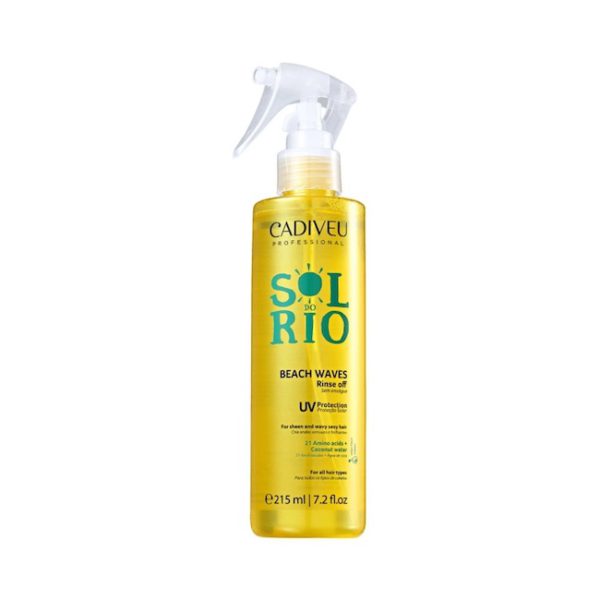 Kevin Murphy Hair Resort
Kevin Murphy brings the Australian goodness in the form of a texturizing gel. This gel helps you get that sexy surfer hair without making it look greasy in a jiffy. The stronghold formula will help you flaunt the look all day long without the hassle of re-touch.
Now that we are sorted with the texturizing spray/gel, let's take a look at a step by step guide to get this easy look:
Step 1: Dampen your hair with some water.
Step 2: Take the gel in your hand and rub it on your palms to help it emulsify. Then using your hands, scrunch your hair while applying the gel onto your hair. Whereas if you are using the spray, start spraying it on your hair and make sure to knead then waves with your hands.
Step 3: Using your fingers, style your waves, and let the product dry naturally, and Voila!
That's it; you are ready to rock those waves by almost doing nothing.  This hairdo is definitely a head turner and will go along with every possible outfit…business casuals or a long-slit gown…it's a must try and almost takes no time.  So, next time when you feel like doing nothing, give beach waves a try, 'coz like the wise woman say…life is too short to have boring hair!
Read Next :
5 Habits for Shiny and Healthy Hair
Does Hair Oiling Work? We Investigate…
And if you liked this article, sign up for a monthly newsletter. A handpicked selection of lifestyle articles delivered to your inbox.