Reading Time:
3
minutes
You must have enjoyed munching on the golden-brown falafels stuffed in warm pita sandwiches either with a glob of hummus on the side or served with a leisurely tomato + cucumber salad, drizzled with silky, nutty tahini at a restaurant.
What makes a falafel 'A Falafel' is the crisp, crunchy exterior and the pillowy oh-so-soft texture in the middle. The fragrant spices with the fresh herbs and garlic add that extra zingy punch, making you slip in a food-coma!
Before you're hooked, let us take you to the old times where Falafel was born, along with a pinch of history. Falafel – a deep-fried (nowadays, even baked) fritter made with ground chickpeas or fava beans or both- was born in the Middle East's lanes–the region's culinary pride that travelled well across the seas to become an instant favourite of many across the globe.
The humble Falafel found its spot as a street food delicacy & quickly rose to fame as a sandwich stuffing to a mezze platter at a high-end restaurant.
The nutritious vegetarian dish is known for its versatility.
The Falafel can be sandwiched in a pita bread pocket or served with salads and dips.
Lately, many food lovers are trying to explore new variations with Falafel Tacos, Falafel Burgers, Falafel Shawarma/wraps/rolls, falafel-quinoa bowls, and much more.
The dish is also hailed by many for its health benefits. It is plant-based, rich in proteins, packed with fibres and minerals like iron, magnesium, manganese, phosphorous & zinc.
You're lucky as we get you to tap into a healthy, secret recipe from one of Margo's (Our Founder) favourite cafes in Mumbai: "Seeds of Life": The Green Café, An Evergreen Solution to Eating Healthy.
A café with charming, earthy interiors has two addresses in Mumbai – one at Pali Hill, Bandra and the other one is a recent addition at Juhu.
Seeds of Life is a place where deliciousness meets health with the 'Eat Good, Feel Good' concept. The soothing, verdant greens and ample natural sunshine peeking in the spaces give a lively, cheerful feel that highlights the aesthetics. If you are looking for conscious eating, Seeds of Life (staying true to its name) is a gem of a place to be.
A thoughtfully curated refreshing menu is redefining healthier options, making it popular with a melange of flavours. Indulge in pizzas, sandwiches, pasta, smoothie bowls, Mexican fare with no processed ingredients or refined sugar.
Well, enough of talking. Let's get you in the kitchen to make some easy-peasy, delicious Falafels. We are sure that you are drooling by now, craving for some.
Special thanks to the founder of Seeds of Life, Mohit Bulchandani, for sharing the recipe of his restaurant's famous falafels with us.
Easy, Flavourful, Healthy Falafels
Serving size: 4-6 people
Ingredients:
Dried chickpeas – 1 cup (Approx. 225 – 250 g)
5-6 Green onions – finely chopped
Garlic cloves – 2-4 pcs
Fresh cilantro/parsley/mint leaves/coriander leaves – ½ cups (preferably mix of all as per availability)
Sea salt – 1 tsp, as per your taste
Cumin, coriander & cardamom powder – 1 tsp
Black pepper powder – ¼ tsp
Cayenne powder/red chilli powder – ⅛ – ¼ tsp, as per your preference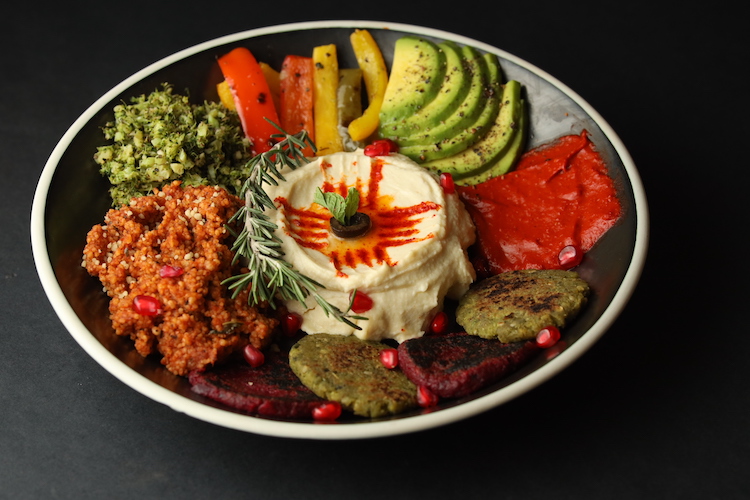 Method:
Rinse the chickpeas well.
Place them in a large bowl, soak in cold water & cover them overnight.
The next day, drain the chickpeas, rinse them again & pat dry.
To the chickpeas, add the rest of the ingredients & transfer them to a food processor.
Pulse the mixture until fine; but not pureed, scraping the bowl as you go. The mixture should be able to hold its fritter shape.
Cover the falafel mix.
Refrigerate for at least 15 minutes. (You can also refrigerate & store the mixture for a few days).
Use a tablespoon to scoop out the mix and gently shape it into a fritter ball.
Deep-fry / air-fry or bake the falafels as per your preference till they turn crisp, golden-brown.
Whip up some tahini or get a store-bought hummus, chop up some veggies, and serve piping hot falafels on the bed of greens. Or, sandwich them in a warm, toasted Pita Bread, add a dash of lime on top and savour.
Make this recipe, let us know how it turned out to be (it is always good to know your reaction), thank us later.
Cheers!
Read next:
Best Healthy Food Delivery in Mumbai, Delhi and Bengaluru
Keepin' It Cool With A Hearty Sicilian Summer Salad Recipe By Renowned Italian Chef – Andrea Misseri
And if you liked this article, sign up for a monthly newsletter. A handpicked selection of lifestyle articles delivered to your inbox.